Music by lobby
Released August 26, 2005. Beta 0.8 is lobby's first official release. The songs are conveniently arranged from shortest to longest making it easy to choose the optimum amount of listening time.
Beta 0.8
Tracks:
0.1 finish something
0.2 heaven
0.3 untitled (too small)
0.4 kurmbox
0.5 cloudpan (ayoye)
0.6 steamer
0.7 pi
0.8 02-20
0.9 beatenmouth
1.0 bells and sines
Beta 0.8
(Buy the CD from CDBaby or download tracks from iTunes)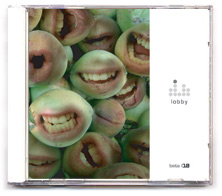 The CD is exactly 60 minutes, but if you don't have an hour to spend, check out:
Track 6 - Heaven for an approachable song
Track 8 - 02-20 for a mix of technology, music, and water
Track 10 - bells and sines for a relaxing ambient work suitable for bedtime
Beats like Alva.Noto and Pan Sonic; highly electronic glitch sounds, with occasional loops of water drops, paper scratching, or real drums. Guitar textures and treatments like Fennesz; beauty through heavy distortion. Simple and familiar harmonies, reminiscent of Four Tet, changed into unfamiliar sounds by microlooping and frequency crushing. Understated vocals mixed with occasional pompous grandiosity. An occasional singer-songwriter structure, while most songs take a more obscure route while exploring sound. Some with words, some without, some in-between.
lobby's music attempts to add warmth to minimalism, to give life through randomness, and to allow sound to roam freely over its 44.1 kHz field. Using both traditional physical instrumentsand electroacoustic tools, the music has an organic blend of warm, cold, serious, humorous, good, bad, and ugly.
---
Beta 0.7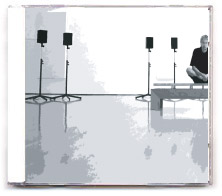 Beta 0.7
Tracks:
Beta 0.7 was released in 2003 to very few people.